Bespoke training vs off-the-shelf: the trade-off
With many training companies, there is a balance between the contextualisation which exists in customised training, and the solid structure and content of a proven off-the-shelf course. And for customers, it's hard to get something that ticks both these boxes. This is a problem, because in an ideal world, you'd take highly-customised training courses which is as robust as a course which runs regularly.
Don't all training companies offer that?
Unfortunately not. Many large training companies claim to offer bespoke training, but due to the size and complexity of the organisation, what you actually get as a customer tends to be a collection of standard content which has been copied-and-pasted together to cover the topics you need. It's not as customised as you might think, and the flow gets lost in the process.
What about small consultancies?
Small training consultancies are (often) excellent at tailoring a training programme to a customer's needs, but this can come at the expense of solid content - it can become a rambling programme of good advice, without the models and best practice to make this replicable back in the workplace.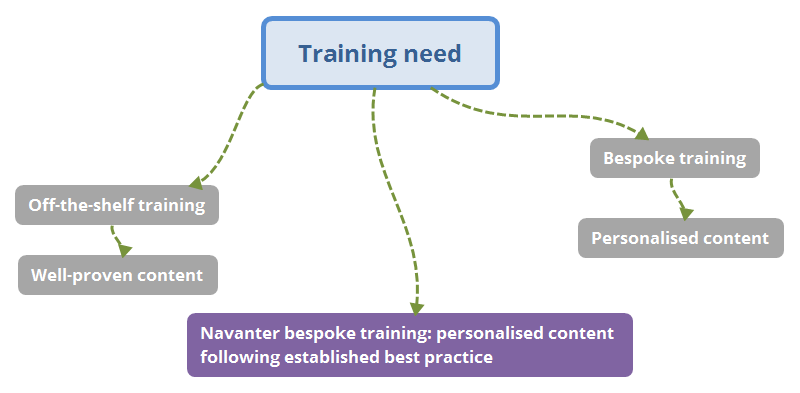 Navanter is the ideal balance between these two
With 16 years' experience working for one of the world's largest learning organisations, Neil Shorney, Director and Principal Training Consultant, understands how a good training programme fits together, around useful models, interactive simulations and a strong structure which is easy to replicate. And as a boutique training company, Navanter is agile enough to develop fully customised solutions which exactly match customer needs - around the world.
What this means to you as a client, is that you can benefit from a highly personalised programme of training, incorporating your own business vocabulary, business-specific exercises, and flexible models and processes which match your needs. This personalisation makes the programme more approachable for your employees, allows them to integrate new tools easily into their working environment, and maximises the chance of the training being actually used on the job to have a rapid impact on business results.
How does this work in practice?
We follow a rigorous process to develop and deliver our bespoke training programmes, ensuring that we fully understand your business, your marketplace and your customers before we start. The process begins with a phone call to discuss your overall objective and understand a little about your business. It's also an opportunity for us to decide whether we can bring genuine value to you through our expertise.
We'll then visit you for a training needs analysis (TNA) where we'll spend time with key people in your organisation who will be impacted by the success of the programme. Ideally, we'll meet all participants for the training so that we can understand each person as an individual as well as a group. At the end of the day, we'll re-convene with your key stakeholders to share our thoughts on a proposed training programme, and make any tweaks necessary.
It's then back to the office to design the training content, exercises, case studies and models which will be used during the course. You'll receive a full report of our findings from the consultation day, along with a detailed programme of training for your approval. Once accepted by you, we'll run the programme and provide a comprehensive post-course coaching guide for your managers and team leaders to help participants assimilate the training into their job. And we'll be in regular contact to ensure you're comfortable with using the training in your workplace.
There are very few industries we haven't worked with before, so we start from a point of already knowing the general environment many customers work in. We have experience working with organisations from multi-nationals down to small start-ups and our industry experience extends from manufacturing to oil & gas, banking to IT, public sector to pharmaceuticals, plastics to publishing, and many other areas in between.
You'll get an idea of the type of training we deliver by viewing our list of off-the-shelf training courses. However, this is only a very small sample of what we can create for your organisation. To get a better idea of our capabilities, take a look at our areas of expertise.

To understand how a training programme might look for you, why not get in touch today for an initial discussion?